Arrive and feel good -
at the APARTHOTEL am Südkanal!
Here you will find a homely alternative to the classic hotel. Whether you are in the Hanseatic city for business or pleasure - you will feel at home in our modern 2-room flats and enjoy the comfort and extensive facilities on 52 sqm of living space.

Experience one of the most beautiful cities in the world and relax in your "own 4 walls" after an eventful day.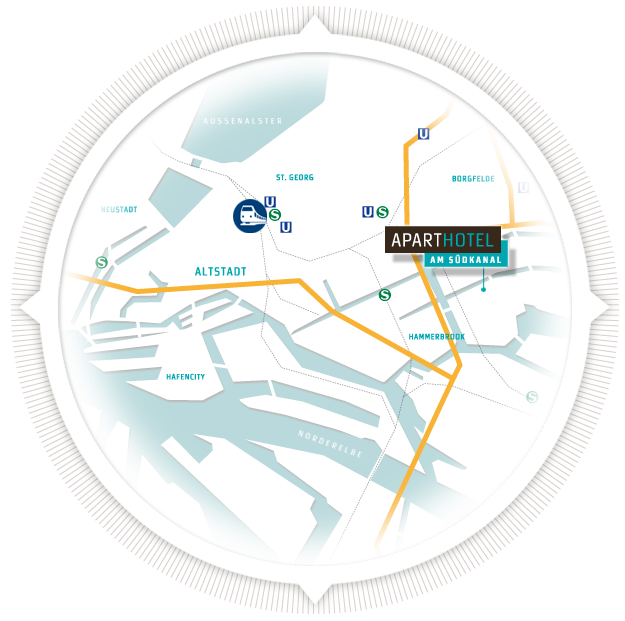 Location & Arrival
The APARTHOTEL am Südkanal is located close to the city centre in the district of Hamburg Mitte and is therefore easy to reach, whether you arrive by car or public transport.
You can reach the main railway station in less than 10 minutes by bus or train. From here you have excellent connections to all other districts and sights of the Hanseatic city.
A bus stop for bus lines 112, 160 and 25 is in the close neighbourhood.
Free parking is available for our guests with cars.
The A255, with direct access to the A1, can be reached in 5 minutes by car.
You can find detailed descriptions >here< .
Contact us!

Can't read the security code? Click on the security code to generate a new one.
Adress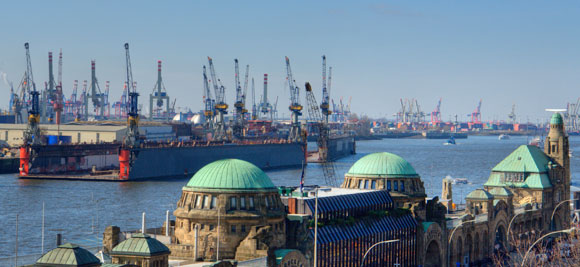 Hamburger APARTHOTEL
Ausschläger Weg 71
20537 Hamburg
Telefon: 0171 379 989 7
FAQs
Internet
Free WiFi is available for our guests.
Pets
Many of our guests ask for flats suitable for people with allergies. For this reason, pets are unfortunately not allowed in the APARTHOTEL.
Parking
Free parking is available for our guests. To load and unload your vehicle, please use the designated parking spaces at the entrance Ausschläger Weg 71. At check-in, we will inform you about the location of the free parking facilities.
Transport connections
The APARTHOTEL am Südkanal is located close to the city centre in the district of Hamburg Mitte and is therefore easy to reach, whether you arrive by car or public transport. (see also LOCATION & ARRIVAL)
Smokers / Non-smokers
All our flats are non-smoking flats. We ask all guests to understand and respect this. In case of violations, high costs are to be expected. Please also read our terms and conditions.
Washing machine / dryer
A laundry room with 2 washing machines and 2 dryers is available for our guests. We charge a fee for the use of the washing machines and the washing powder. Please contact the reception desk if you require a washing machine or dryer.
Consumables
Consumables such as toilet paper, kitchen roll and dishwasher tablets are provided free of charge in the usual quantities. Should the supply run low, please do not hesitate to contact us.
Cleaning / Final cleaning / Intermediate cleaning
Final cleaning by our staff is obligatory and costs € 15,- to € 30,- depending on the length of stay and number of persons. Weekly intermediate cleaning (from 8 nights) is included in your individual offer price.
Equipment
You will find a complete list of facilities >here< .
Gastronomy / Breakfast
Gastronomy and breakfast are not offered by the APARTHOTEL. You will find numerous restaurants and shopping facilities in the immediate surroundings. Each flat is equipped with a complete kitchen, including crockery and cooking utensils.
Services (hairdryer, iron, ironing board, hoover, etc.)
If required, we will be happy to provide you with a hairdryer, iron, ironing board, etc.
Restaurants
There are numerous restaurants in the immediate surroundings (some within walking distance). You will receive a map upon arrival.
Shopping facilities
The nearest supermarket is about 900 m away. You will find a bakery only 400 m away. Snacks and drinks are available at a nearby petrol station (approx. 150 m).
Lift / Elevator
Both floors of the APARTHOTEL can be reached directly by lift (1.0 m x 0.8 m).
Linen change (bed linen & towels)
In order to protect the environment and to keep our prices attractive, we do not change towels daily. For stays of at least 8 nights, we change the towels once a week, and the bed linen after 14 days. For a fee of € 4,00 (one set of towels: 1 x large & small) or € 7,00 (1 set of bed linen) per person and change, you can book fresh linen as required.
Culture and tourism tax
From 01.01.2013 the city of Hamburg levies a culture and tourism tax. This must be collected by the hotels and paid 100% to the City of Hamburg. The amount depends on the price of the overnight stay and the number of persons. Business travellers may be exempt from this tax. Details can be found at: http://www.hamburg.de/nav-steuern-2013/3691362/kttg2013.html.